You've landed on this blog post because you want to know how to become a freelancer. You've been thinking about it for so long and after settling on a freelance business you can start today your mind is made up.
You're ready to get started, right?
Not so fast…
One of the biggest reasons why many freelancers get frustrated during their first couple of months and many consequently give up, is because of the misconception that you'll just sit at home and work will come to you. There's this floating notion that freelancing is easy.
The reality is you have to work hard. Freelancing is indeed serious business. Unlike an 8-5 job that comes with a sweet, reliable paycheck every month, there's nothing stable about freelancing. You need lots of hard work to take your freelance business to a point where stable income in streaming in monthly.
To achieve this you have to:
Decide. Commit. Act. Succeed. Repeat.
Quitting your day job to freelance full-time is scary. I should know. I did it 3 years ago. I was so scared of the unknown. What if I found myself without money to pay my bills? But being able to work for myself on projects that I love is totally worth the risk.
The good news is that you don't have to quit your day job immediately. You can freelance part time while working full time.
Another reality is: you too can be a successful freelancer.
All you need is the right amount of preparation, information, courage, and dedication.
Today in this blog post, I will share with you some simple secrets that I used (or wished I used) to become a successful freelancer.
Before you continue reading, remember that I'm here to help! Feel free to reach out on my Facebook Group and ask any burning question that you may have concerning how to become a freelancer, freelancing jobs, traveling and how to become a digital nomad.
How to Become a Freelancer
1. Have A Plan Of Action
This is where most people go wrong.
Not having a plan is planning to fail.
Before you get started have a plan of action. Here I want you to be extremely practical. In fact, how about you write your plan out. It's true that your thoughts become actions once you write them down.
So take your notebook and answer the following questions:
Do you have the discipline to work alone without supervision?
Are you ready to teach yourself? Which courses are most important to your success?
Do you have good communication skills? (Written as well as spoken)
Are you ready to take rejection? (This will happen A LOT)
What type of work do you want to specialize in?
What type of clients do you want to work with?
How much do you want to earn each month? (Be realistic on this one, remember you're a newbie so do your calculation using the bare minimum amount required to make your effort worth it)
Are you able to work under pressure and stress?
Where do you want to be in 5 years?
If this fails, what is your backup plan?
2. Create a Personal Brand
What's a personal brand?
A personal brand is your unique professional identity that sets you apart from other freelancers. This is one of the secrets that I learnt long after I started freelancing. How I wish I knew this before I got started as a freelancer.
Many of us will simply pick an area of practice and call ourselves a service provider in that area. For instance, copywriter, virtual assistant, transcriber etc. But what is so special about you? What makes you different from any other copywriter?
So, how did I finally build my personal brand?
I first chose a niche. Instead of selling myself as a general writer, I decided that I wanted to concentrate on digital copywriting (web content, email content, landing pages, sales pages etc.)
I then worked on my online presence. To begin with I spruced up my LinkedIn profile to reflect my services. I turned my profile into an effective CV. I added every single detail of my experience (education and work). I also asked for recommendations from past employers.
Here's a preview of my LinkedIn profile:
I then employed the same tactics to my Facebook account. You want people to see the same professional message no matter where the look you up.
If you take a look at my Facebook profile, you'll first notice my cover image. The image has my business name and a short description of my services. My profile intro tells what I do and who I work with.
You want people to see you as an expert in your field, so you better ensure that your brand communicates exactly that!
3. Prepare a Portfolio
A portfolio is very important for any new freelancer. This is how you gain trust from clients. Most clients assume that new freelancers don't have the kind of experience required to successfully complete a project. How else will a client know you have experience if you don't show them what you've done in the past.
You don't need big projects to have a portfolio. Remember your university/college project? The free work you did for your church or friend? All that is experience.
If you have a full time job create a portfolio with your past work experience. All the tasks that you did. You don't necessarily need a website in order to create a portfolio. You can do so using PDF.
Also, keep in mind that a portfolio is not just a collage of your work but also a creative way of creating your CV. So include a bit about yourself, your services, clients you've worked with (if you have testimonials include them), your charges and your contact details.
[thrive_link color='red' link='https://www.canva.com/design/DACEyMftsH8/gpLkm0r_YMlGPaqUOg0UQA/view?utm_content=DACEyMftsH8&utm_campaign=designshare&utm_medium=link&utm_source=sharebutton' target='_self' size='big' align='aligncenter']Checkout my portfolio[/thrive_link]
4. Prepare for a Rainy Day (Think finances)
Money is definitely one of the biggest concern that wannabe freelancers face. It's also a major reason why most people chicken out. It's pretty understandable why money would be a big concern.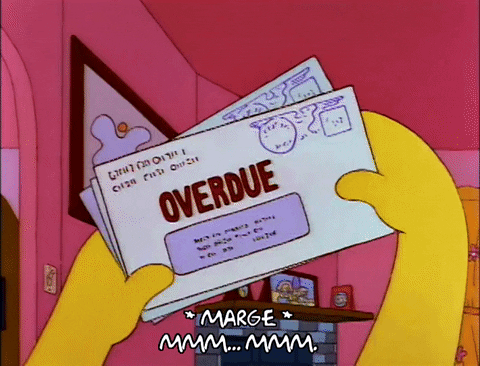 So to put your mind at rest, ensure that you consider this issue before you get started. For those who are already working, the easiest way to deal with money worries is to commit to saving a certain amount of money before you decide to freelance full time.
Calculate the amount of money you need to comfortably get by each month. Multiply this by 12 and you'll have the amount of money you need to get by for a year. Then, depending on how much you're earning come up with a reasonable figure to save every month.
This way, you'll have enough money to get by for a whole year after you start freelancing. This will give you peace of mind to put your freelance business in order.
For those not working, the trick here is to set the right freelance rate. You want to charge enough to get you by and as little as possible not to put clients off.
Once you get started, be sure to keep track of your earnings in order to evaluate whether you are making by. It's easy to get carried away with paying bills that you forget to check whether you are making what your services are worth. A simple excel sheet with a record of weekly earnings and expenditure will do.
5. Get a Few Clients to Start with
Before you jump both feet in, try and find one or two clients to get you started. These clients will at least earn you enough to pay your most pressing bills.
As you work full time, set time aside to pick a few small jobs here and there so that you familiarize yourself with freelancing and also to be able to create a list of potential full time clients should you decide to quit your job.
You don't have to wait until you've launched your freelance business to find clients. You can take advantage of your networks, family, friends and colleagues to get referrals. Doing so will make it easy to get some initial work to get started.
6. Got Yourself a Mentor
Another lesson I learned on the job! Having someone who's done this before to guide you will certainly steer you towards success.
Find a mentor who will give you advice or even give you some work for practice. Remember, it's not all about the money. When you're starting out learning the ropes becomes more valuable than the money you make.
So if it means taking on free work from a mentor do so, just ensure that you learn a thing or two along the way. You can request for a mastermind session in exchange for free work.
I was lucky to find a client who was willing to teach me (and still is) a lot of what I know. Whenever I take on work from this client the last thing on my mind is how much they will pay me instead I get excited by the prospect of learning something new from them as I work on their project.
If you're still on the fence about becoming a freelancer, how about you take a few days and put the above tips into practice and see how it goes? Taking action right now is the ultimate secret to your freelancing success!
Are you already a seasoned freelancer? What other lessons have you learned that could be useful to those just starting out? 
Hi there and thank you for stopping by! My name is Stella and I am the face behind the blog, a proud mum to @emileetaraji (I swear she writes the captions herself 😆 ) and a full-time copywriter and Digital Marketing expert who has been helping businesses execute successful digital marketing strategies for over a decade. Let's keep in touch!